Sign Africa Sub-Saharan AfricaExpo 2021
The Sign Africa and FESPA Africa expo colocated with Africa Print and Modern Marketing scheduled for 8-10 September 2021 at Gallagher Convention Centre in South Africa.
Entrance to the expo is free. Register online HERE.
Date: 8-10 September 2021
Time: 9am – 5pm Daily
If you have any other questions that we have not answered, please e-mail info@signafricaexpo.com
Gallagher Convention Centre
Gallagher Convention Centre is South Africa's premier multi-purpose conference and exhibition destination. The 32-hectare property offers 27 multi-purpose venues which cater to a variety of events such as conferences, dinners, luncheons, cocktails, exhibitions and private events. They offer unmatched service and quality to our clients and their guests.
It is conveniently located in Midrand, between Johannesburg and Pretoria. The Wine Garden Restaurant offers a unique dining experience with superb quality cuisine. Surrounded by bird life and lush gardens, the restaurant lets you forget about the hustle and bustle of the city. Gallagher Convention Centre is proudly associated with Midrand Central Reservations for all your accommodation reservations. For all individual or group accommodation reservations, contact Gallagher for a complimentary service to find the perfect place to stay.
Address: Gallagher Convention Centre, 19 Richards Drive, Midrand, Johannesburg, Gauteng, South Africa
Parking: Secure parking is available in Richards Drive for your own account. Have cash handy.
Hotels: There are many hotels in Midrand and Waterfall Estate.
Why Johannesburg?
Johannesburg is transitioning to a friendly metropolis with quirky urban attractions to substantiate its wilder and more scenic offerings. Here are a few of its best:
Walter Sisulu Botanical Gardens
Combining natural vegetation and rocky hiking trails with skilfully landscaped gardens, visitors must trek up to the top of its waterfall to see Black Eagles and terrific views.
Pilanesberg National Park
This national park not only offers safaris galore but you can even camp here. In spite of the large meandering beasts, it's safer than it sounds.
Sterkfontein
Home to a startling number of our chimpish ancestors, it's no wonder the fossil-rich Sterkfontein caves are also known as the Cradle of Humankind.
The Old Fort
Discover the brutish conditions of a detention centre that held Nelson Mandela, Gandhi, and many other political leaders and suspected dissidents. It can prove to be a very humbling experience.
De Wildt Cheetah & Wildlife Centre
This research and observation centre lets you get close to cheetahs, wild dogs, and other native creatures you may have missed on safari.
Apartheid Museum
How did Apartheid feel? Upon paying admission you'll be assigned a racial category to help you understand the gravity of the exhibits.
Johannesburg Zoo
The Joburg Zoo is one of the most popular local and tourist attractions situated in the leafy northern suburb of Johannesburg. The Zoo covers 54.7 (55) hectares of land and was founded in 1904, as a piece of land donated to the public for recreational use by the firm of the late Hermann Ekstein.
Details to be confirmed in 2021
Compete in 3 easy steps!
1. Register to visit the expo for free here.
2. Visit the Roland stand and register up to 3 of your best wrappers and your registration will be confirmed with your time slot.
3. Be present at your time slot and wrap a door in 10 minutes to the best standards.
PRIZES:
Cash Prize: W-ookie (Wrap Rookie): 1st R3500  2nd R1750  3rd R1000
Double: Wrap Lord (Professional Wrapper): Score more than 45 points and double your money.
Bonus: The Wrap King (Winner Bonus): Will have the opportunity to compete internationally at FESPA Europe
This event is brought to you by platinum sponsor Roland, vinyl sponsors Grafiwrap (distributed by Maizey Plastics) and show sponsor Sign Africa.
T&C's apply
The decision of the judge(s) shall be final and no correspondence or discussion shall be entered into.
Prizes are non-transferable and there is no cash alternative.
All taxes, insurances, transfers, spending money and other expenses (including meals or personal expenses, upgrades etc) as the case may be, unlessspecifically stated, are the sole responsibility of the prize winner.
Stay safe at Sign Africa Sub-Saharan Africa 2021
We take the safety of our exhibitors, visitors and team very seriously. We are working very closely with Gallagher to ensure
that we provide a safe, secure and successful event for all involved. Download the full information here.
Mandatory Face
mask rules.
Temperature Checking
on arrival.
1.5M Social
distancing rule.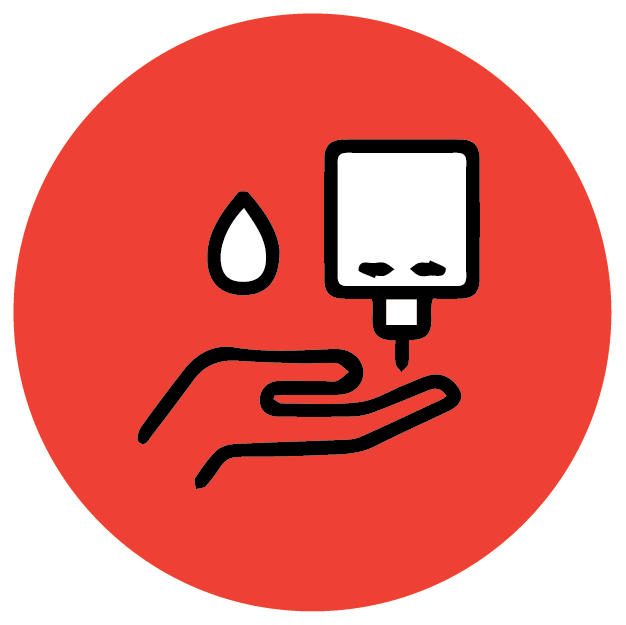 Hand sanitising
stations in place.
Attendance tracking
for area allowance.
Wider aisles for
two way traffic.